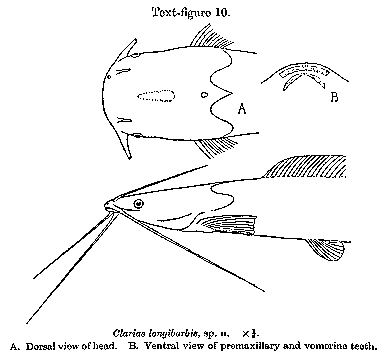 Bathyclarias longibarbis, the type species of its genus, was first described in 1933 by E. B. Worthington as a species of Clarias. It is among the more frequently encountered members of the endemic deep-water clariid fauna of Lake Malawi, occurring on the bottom down to a depth of about 75 meters (Eccles, 1992; FishBase).
The holotype, caught in 1925 by Christy between the Shiré River sand bar and Nkudzi (Malawi), is the largest specimen known, measuring 76 cm standard length (SL) according to Worthington and even somewhat longer (804.5 mm or 31.7 inches SL) as remeasured by Anseaume & Teugels (1999: 418).
In his checklist, Jackson (1961: 554) calls B. longibarbis "more active in its habits" than other clariids, adding: "Mainly a fish-eater, it is caught on lines baited with fish, and is also an important food fish, being fairly abundant especially in the northern lake." Recently, multiple specimens have been collected from both the southeast and southwest arms of the lake (Anseaume & Teugels, 1999: 418).
B. longibarbis is recognizable within the genus Bathyclarias in having all of the following characters (adapted from Greenwood, 1961: 225, 230):
Gill rakers short, length of longest gill raker (on outer arch) divided by length of longest gill filament = 0.3-0.6 ["about 0.5-0.6" in the specimens available to Greenwood (1961)];
Barbels rounded in cross-section, smooth, simple;
Body smooth, not pitted;
Gills and suprabranchial cavity not black;
Tooth-band on the vomer less than 1¼ times as broad as the premaxillary band; and (especially),
Maxillary barbel reaching well beyond tip of pectoral fin.
The above illustration is from the original description (Worthington, 1933).

Last Update: 18 October 1999
Web Author: M. K. Oliver, Ph.D.
Copyright © 1997-2021 by M. K. Oliver, Ph.D. - ALL RIGHTS RESERVED