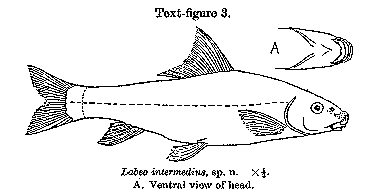 Labeo worthingtoni was originally called Labeo intermedius by Worthington (1933), but this name was preoccupied and Henry W. Fowler provided it with its current name as a replacement in 1958. It was considered "[a] species of doubtful validity" by Jackson (1961). However, in his revision of Labeo, Reid (1985) recognized L. worthingtoni as a valid species endemic to Lake Malawi.
Worthington (1933: 298) had this to say about differentiating this labeo from the other two species then known in the lake:
The three type-specimens and the long series of both L. mesops and L. cylindricus in Dr. Christy's collection show clearly that this is a distinct species. It can be distinguished immediately from L. mesops by the lips, which have papillae fused into many rows of small transverse plicae, and by the smaller eye; and from L. cylindricus by the much deeper strongly compressed body and the much narrower under-lip.
I have not yet been able to check Reid's updated treatment of L. mesops to see if these distinctions are still an adequate basis for recognizing individuals of the species.

The above drawing is reproduced from Text-figure 3 of Worthington (1933).

Visit drawing of Labeo worthingtoni
at FishBase (then hit browser's "Back" button to return)





Last Update: 29 February 2000
Web Author: M. K. Oliver, Ph.D.
Copyright © 1997-2021 by M. K. Oliver, Ph.D. - ALL RIGHTS RESERVED