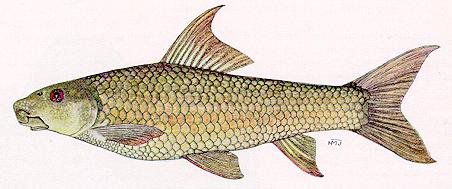 The "redeye labeo," Labeo cylindricus, has a wide distribution. It is found all the way from Chad and the Congo basin to Kenya, and southwards to northern Natal, South Africa. In Lake Malawi, it is "...[a] rock-haunting Labeo abundant... wherever a rocky substrate on which grows the algae on which this species feeds is to be found, and also in the middle and lower reaches of rivers where a similar environment occurs" (Jackson, 1961). It reaches a length of "34 cm. [13.4 inches] or more" in Lake Malawi, according to Jackson; this is substantially larger than the 23 cm (9 inches) and 0.9 kg (2 pounds) reported in the southern African part of its range by Skelton (1993).
Unlike the specimens illustrated here, individuals in Lake Malawi tend to show a distinctive, narrow, dark stripe along the middle of the flanks, from the gill covers to the base of the caudal fin. This and the bright red coloring in the upper part of the eye are good recognition characters underwater.
Populations in the lake have "...a well marked breeding season, around December, and the breeding season is very short, eggs being laid among the rocks" (Jackson, 1961).
An acanthocephalan parasite of L. cylindricus in Lake Malawi was described recently (Amin & Hendrix, 1999).
Both the color painting (above) and the illustration below, from Jubb (1967), are used by kind permission of Mr. A. T. Balkema of A. A. Balkema Publishers, Rotterdam.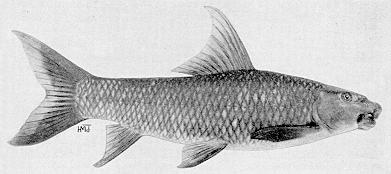 Last Update: 11 August 2000
Web Author: M. K. Oliver, Ph.D.
Copyright © 1997-2021 by M. K. Oliver, Ph.D. - ALL RIGHTS RESERVED