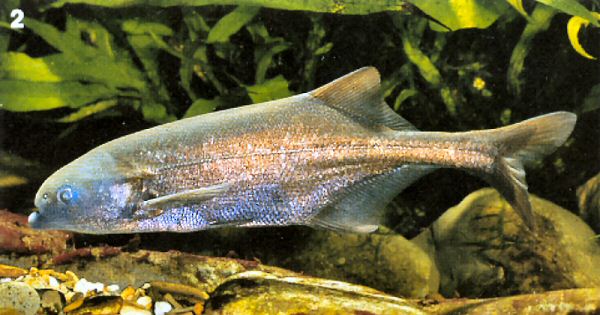 Above: Marcusenius nyasensis, formerly called Gnathonemus nyasensis, is the only one of the six mormyrid species found in Lake Malawi that is endemic to the lake (not found elsewhere). The color photo, by Dr. Lothar Seegers, shows an individual from Malawi and is reproduced from Fig. 2 of Seegers (1995) with his kind permission.

Attaining a standard length of 30 cm or 12 inches (FishBase), this mormyrid feeds on insects and aquatic plants ("weeds"; Jackson, 1961).

The line drawing below is taken from the original description of the species (Worthington, 1933).

Last Update: 10 June 2004
Web Author: M. K. Oliver, Ph.D.
Copyright © 1997-2021 by M. K. Oliver, Ph.D. - ALL RIGHTS RESERVED