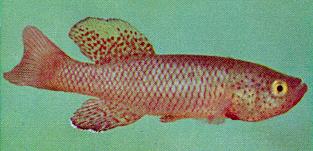 Nothobranchius orthonotus is the only member of its genus currently known from the marshy margins of Lake Malawi (but see below). The British Museum has six specimens of N. orthonotus from Monkey Bay and Bar House, both of which have lakeshore swamps. It is more common, however, in the lower Shiré River drainage. This is one of the largest members of its genus, attaining 10 cm (4 inches) in total length. According to FishBase, it eats mosquito larvae, small crustaceans, and other small aquatic organisms and is used in mosquito control. Outside of Malawi, it is found in Zimbabwe, Mozambique, and South Africa. FishBase calls it a bottom spawner with a 3- to 5-month incubation period.
A second Nothobranchius species, N. kirki Jubb, 1969, was originally described from the environs of Lake Chilwa, outside the Lake Malawi drainage. Since its description, N. kirki has been collected more widely in southern Malawi. In 1972 Stuart Grant even found this species along the lakeshore road near Salima, some kilometers west of the "bottleneck" above the two southern arms of L. Malawi (FishBase). This area includes an extensive swamp and sluggish streams draining into L. Malawi. Thus, it is possible that N. kirki could be added to the L. Malawi marginal fauna in the future, and that it could even be found drifting in the lake with floating islands like its distant cousin Aplocheilichthys johnstoni.
In the past these Nothobranchius killifishes were classified in the family Cyprinodontidae, but they are currently placed in the separate family Aplocheilidae based on substantial evidence from the skeleton (Parenti, 1981).
The color photo of N. orthonotus above, by N. G. Rose, as well as the black and white photo of the same species below, are from Jubb (1967) and are used here with the kind permission of Mr. A. T. Balkema of A. A. Balkema Publishers, Rotterdam.


Last Update: 11 August 2000
Web Author: M. K. Oliver, Ph.D.
Copyright © 1997-2021 by M. K. Oliver, Ph.D. - ALL RIGHTS RESERVED