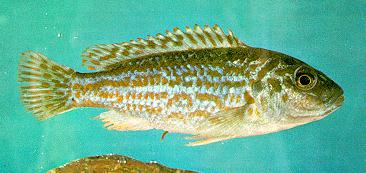 Labidochromis joanjohnsonae. Above: The upper, orange-striped fish, a female, is the holotype (57.3 mm SL; USNM 214935) of Melanochromis exasperatus (a species now synonymized with L. joanjohnsonae). The bluish gray fish in the lower photo above, a male, is one of three paratypes (USNM 214936) of L. exasperatus. Both photos by Dr. Herbert R. Axelrod, reproduced with the permission of T.F.H. Publications, Inc. from Burgess (1976a).
In considering this much-confused species a member of the genus Labidochromis, I am following the recommendation of Konings & Stauffer (2012: 25).
Below: Drawing of a female L. joanjohnsonae, 61 mm SL, from Likoma Island. Below it are drawings of the lower pharyngeal bone; labial aspect (i.e., external view; mislabled "lingual aspect") of mouth; occlusal view of both jaws; and dorsal view of head of this species. All drawings from Lewis (1980).


Last Update: 17 April 2012
Web Author: M. K. Oliver, Ph.D.
Copyright © 1997-2021 by M. K. Oliver, Ph.D. - ALL RIGHTS RESERVED