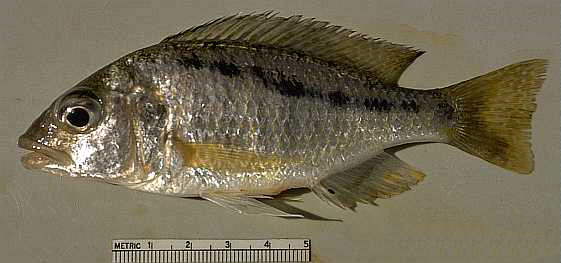 Above: Corematodus taeniatus. Scroll down for closeup of head, showing characteristic broad bands of jaw teeth used for scraping scales and epithelium from the caudal peduncle and fin of its prey, various oblique-striped species of endemic haplochromines which it mimics. This is a textbook example of aggressive mimicry. Compare the quite different color pattern of C. shiranus, its only congener, which mimics and similarly preys on certain tilapias. Photos copyright © 1997 by M.K. Oliver.



Above: Characteristic filelike dentition of Corematodus taeniatus.
Photo copyright © 1997 by M.K. Oliver.




Last Update: 10 August 2001
Web Author: M. K. Oliver, Ph.D.
Copyright © 1997-2021 by M. K. Oliver, Ph.D. - ALL RIGHTS RESERVED